---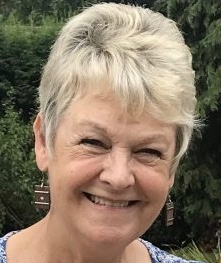 Lesley Fowkes was the first customer outside my circle of friends to buy one of my ukuleles and since then she has become a real friend and we have spent happy times together at ukulele festivals and enjoyed visits to each other's homes.
Lesley has Motor Neurone Disease (MND/ALS).  The Motor Neurone Disease Association (MNDA) have been very helpful to Lesley and despite her condition she is as always full of zest and is raising funds for MNDA.  She has set a target of £20,000. With Lesley's agreement, in August 2018 I auctioned a Koa Soprano which raised over £500. This year I have decided to donate and auction another ukulele with the proceeds going towards Lesley's target.
---
The 2019 auction is for a DJ Morgan Ukuleles handmade Mahogany Tenor Ukulele including a Kinsman hard case and will run until 8pm GMT on Sunday 25 August.
Details of the ukulele are as follows:
Body: African Mahogany with black and white inlayed sound hole ring and curved back.
Neck: African Mahogany with a Figured Sapele peg-head facing to the front.
Fretboard: Mgurure (Leadwood) with abalone fret inlays, abalone side dots to both edges and corian nut.
Bridge: Mgurure with a corian saddle.
Tuners: Der Jung open geared.
Finish: Pore filled, satin.
UK bids only. There is a reserve on the instrument, so please make your bids over £200.  The winning bidder will be notified as soon as possible and I will then give them the details of the charity fund to make the payment. All bids need to be emailed to dave@djmorganukuleles.co.uk. This is so I can easily keep track of the bids and should more than one person bid the same amount I can see who was first. On receiving a bid I will return an email of acknowledgement.  
I would normally put this ukulele up for sale at £495 without a case.
Please note there is no return of this instrument as the winning bid will be paid directly to the charity fund.
Please send your best bid to dave@djmorganukuleles.co.uk
Best wishes,
Dave
Update: The auction raised over £500 for Lesley's Motor Neurone Disease Association Fightback Fund.